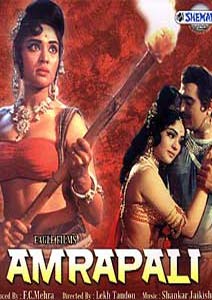 Amrapali
Year: 1966
Director: Lekh Tandon
Cast: Sunil Dutt, Vyjayanthimala, Premnath
The first word that comes to mind after watching Amrapali is 'Impressive'. It is a mythological costume drama set in the 6th century and made in 1966. But even today while watching it in the post-millennium era, we can hardly find a flaw in the production values. The sets, the costumes, the war scenes, the choreography… everything is top notch and just perfect. The color cinematography brilliantly captures the grandeur and the period feel. And then there is Shankar-Jaikishan's music, which is simply out of this world.
Amrapali is a story of different hues. Ajatshatru- the ambitious emperor of Magadh attacks the neighbouring state of Vaishali but ends up on the losing side. Defeated and wounded, he slips quietly into Vaishali under disguise. Amrapali, a beautiful danseuse and a staunch Vaishali patriot, takes him in as an injured soldier from her state's army. While nursing him to health, she falls in love with him and he too finds himself drawn to her. But how long will his disguise last? Will Amrapali, now the 'Raj Nartaki' of Vaishali, accept his love after discovering his real identity? How will their love survive the test of enmity and hatred between two warring states?
Vyjayantimala looks like a Goddess, dances like lightening and does full justice to the title-role. Handsome Sunil Dutt looks a true blue-blooded royal but is over-the-top in his portrayal.
Director Lekh Tandon never lets the pace and the interest level sag. The inevitable melodrama is handled quite deftly.
If despite all these positives, if Amrapali fails to qualify as a great classic then it is only because there are no real memorable emotional high points in the film. The philosophical climax comes rather abruptly and does not leave a lasting impact.
Still Amrapali is one lush and lavish period film that is worth savoring!