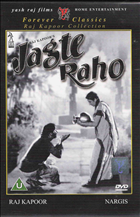 Jagte Raho
Year: 1957
Dir: Sambhu Mitra
Cast: Raj Kapoor, Nargis, Motilal
Viewing Jagte Raho more than fifty years after its theatrical release evokes mixed reactions. Inspired by Satyajit Ray's Pather Panchali, Raj Kapoor decided to try something different and chose an off-beat social satire with a totally deglamourized hero. But even in this obvious attempt to woo the more cerebral audience, he still kept the masses in mind and that's why he made the film into a musical with a dash of Chaplinesque slapstick humor. Even though the film was made under his own RK-banner, Bengali director Sambhu Mitra directed it. The film was also made in Bengali as 'Ek Diner Ratre'.
Now to the plot: For the umpteenth time, we see Raj Kapoor playing a simpleton rustic coming to a city. In the dead of the night, this simpleton villager wanders into an apartment society to quench his thirst. But his unkempt appearance and anxious behaviour leads a sentry to raise a burglar alarm. Trying to hide from the overzealous society-dwellers eager to nab a thief, now the poor man finds himself running from room to room- coming across all kinds of human specimen. In fact, confusing maze of apartments with their varied dwellers serves as a microcosm of the complex and morally challenged urban world. Thematically the story is about falsity of outward appearances and as always in RK-films, the villains committing dark deeds turn out to be the rich, respected men in white garbs! The film's message is clear- that the common man has to face life with courage and he shouldn't get bullied by the rich and mighty!
The story starts off nicely as an intelligent comedy but then loses its grip thanks to an ever-winding plot. Composer Salil Choudhury- (who gave music for RK-films for the first and only time!) comes up with some memorable songs like Thandi Thandi Sawan Ki Phuhaar (Asha Bhosle), Zindagi Khwab Hai (Mukesh) and But there is nothing to beat Lata's superlative devotional song- Jaago Mohan Pyare coming right at the end of the film.
Raj Kapoor's Filmfare-nominated performance seems a bit overdone by contemporary standards but he does leave his mark in few memorable scenes. The final shot of Nargis (playing an unrelated housewife) pouring water from the pitcher and a grateful Raj quenching his thirst is one of the most enduring images in Indian cinema. That was the last time this famous pair was ever seen together on screen!