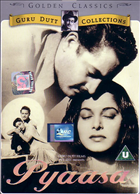 Pyaasa
Year: 1957
Director: Guru Dutt
Cast: Guru Dutt, Waheeda Rehman, Mala Sinha, Rehman
Music: S.D.Burman
Pyaasa is not just a movie- it's a piece of celluloid history, an experience to behold. It's a film that has influenced many a latter-day film-maker. Guru Dutt – the enigmatic genius who produced and directed this film made it into an engrossing on-screen duel between artistic sensitivity and cold commercialism and did it in an intensely personal manner. It was as if he was voicing his own frustrations as an artist living in a world dictated by crude demands of commerce.
The film tells the story of a struggling poet Vijay (Guru Dutt), who is a loser in every sense of the word. His poetry is rejected by publishers; his own brothers disown him as good-for-nothing and even his lady-love (Mala Sinha) leaves him to marry a rich man. 'Write about beauty and romance; not about hunger and poverty' is the practical advice offered to him by senior poets and publishers but instead, his sensitive mind comes up with stinging verses depicting a decaying society corrupt to its core.
Surprisingly it is a poor prostitute (Waheeda Rahman)- a woman looked down upon by pseudo-moralistic society, who recognizes Vijay's poetic genius. When Vijay is presumed dead in an accident, she spends her life-savings to get his poems published. Surprisingly that book becomes a nation-wide rage but to grab its royalties, the poet's so –called friends and family members try to accuse Vijay (who is recuperating in hospital) as an insane impostor. A roadside barber- friend (Johny Walker) rescues Vijay from that situation. Coming back from dead, Vijay sees himself being put on a pedestal but he also realizes the futility of fame and money- as these are the very things which poison minds and separate near and dear ones. Frustrated by this worldly attitude, he asks a poignant question- Yeh Duniya Agar Mil Bhi Jaaye To Kya Hai? (What am I to gain, even if I get this world for myself?)
Originally the title- role was planned for Dilip Kumar but he refused it, not wanting to be too repetitive as a tragedian. Faced with an eleventh hour dilemma, film-maker Guru Dutt decided to take on the additional responsibility of being the lead actor and literally poured his heart into the role. His underplayed characterization brought forth all the pain and pessimism of a frustrated artistic mind. As a director, too, such was his attention to detail in story-telling that almost every character in the film made its presence felt.
S.D.Burman's superb music, Sahir's penetrating poetry (Jinhe Naaz Hai Hind Par Woh Kahan Hain?) and B.K.Murthy's surrealistic black-and-white cinematography provided the audio-visual magic to this great masterpiece.