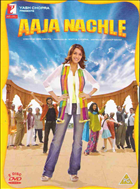 Yashraj film's Aaja Nachle might not have done too well at the box-office but still the film's 2 disc- DVD is worth watching, mainly for the second disc which presents the special features
In the 'Making Of The Film, the film's heroine- Madhuri Dixit, (who is now settled as a US-based housewife Mrs. Nene!) shares how her real life situation prepared her to easily connect to the central character of NRI settled in US, who is coming back to find her Indian roots. Vaibhavi Merchant choreographed some spectacular song-dance sequences in the film and she says she was really wonderstruck while watching Madhuri execute the difficult dance-steps with such grace and élan.
Co-stars Konkona Sen and Kunal Kapoor are unanimous in their dislike and fear for dancing on screen! Both say that they were literally terrified of gyrating on the silver screen and they both are full of gushing admiration for the superstar Dixit's humility and acting-dancing talent. The director and rest of the acting crew share their fond memories of working as an extended family and having a lot of fun while making the film.
The DVD also features deleted scenes (interestingly showing the other version of the popular 'Jalebi' comic scene), making of the climactic song 'Laila Majnu', outtakes, theatrical trailer and an extensive photo-gallery of posters and movie-stills.