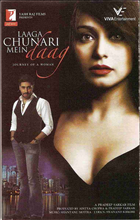 This Yashraj film did not find favour with the theatre audience in 2007 but once again, the business savvy production house does well on the home video front and comes up with an interesting 2 disc DVD pack full of special features and behind the scenes details.
In the 'Making Of The Film', portly director Pradeep Sarkar tells how he was touched by Rekha Nigam's story of an elder daughter sacrificing her dignity to provide for her parents and younger sister. He also shares his experiences of working with a huge cast featuring a mix of old and new generations of actors. Rani Mukherjee describes how challenging it was to portray a central character of a small-town girl turning into a high profile consort. Konkona Sen describes the good vibes she shared with the rest of the cast and how embarrassed she was when she accidentally hit a toy on Rani's nose on the very first day of the shooting! Kunal Kapoor's passion for perfection comes to light when he tells that he ate more than a dozen burgers at one go to get a shot right! Hema Malini – who did a special dance appearance in the film, frankly tells that she was initially skeptical about choreographer Howard Rosemeyer's ability to compose a traditional Katthak dance but then she was happy to be proved wrong! In 'Making Of Songs' the composer Shantanu Moitra and lyricist Swanand Kirkire discuss their attempt to create songs of various shades.
With features like music videos, storyboard sample, photo gallery and theatrical trailer to go along with, this home video offers a real value for money and provides an insight into how much sincere effort is put in to make a film!