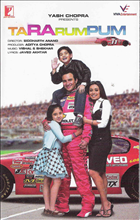 Tara Rum Pum and Jhoom Barabar Jhoom- the first two Yashraj- releases in 2007 might have received a mixed response at the box-office but fact remains that the famed production house had done every possible effort from their end to make these films technically perfect and audio-visually appealing. The DVDs of both these films are now out on shelf and they offer an interesting glimpse into what really went into the making of these films.
Tara Rum Pum
The 2 disc- DVD comprises of Disc 1 featuring the movie in anamorphic wide-screen presentation and the second disc is full of some interesting special features. In the feature 'The Making Of Film', The film's young director Siddharth Anand explains how difficult it was to translate his vision of a NASCAR racing driver's emotionally draining professional and personal turnaround onto the screen. Braving some of the hottest temperatures in the world, the crew shot some of the best motoring action, hiring a truckload of cars and technicians. The famous cinematographer Binod Pradhan recounts how he was asked to don make-up to play a small funny character in the film. The lead actors- Rani Mukherjee and Saif Ali Khan fondly reminisce about their roles and their interaction with the two kids, played by Ali Haji and Angelina. The young children, too enthusiastically talk about the novelty and excitement of filming the title-song on an empty, fully green coloured set. The empty screen space was later filled with cartoon characters, which appeared there thanks to computer graphics! Choreographer Vaibhavi Merchant gives more insights into the choreography of various song-sequences and tells us how joyful it was to ask Javed Jaffri to dance on screen after so many years! Jaffri in turn shares how good it felt to portray a funny character that was not just a caricature. Composers Vishal and Shekhar tell us how they tried to bring in the Shankar-Jaikishan, Laxmikant-Pyarelal period touch into their tunes! The 'Out-takes' feature presents the funny bloopers that happened while filming and we also get an opportunity to see some extra scenes which were later deleted from the movie.
Jhoom Barabar Jhoom
This twin DVD also comes as one disc with anamorphic wide-screen movie and the other with special features like 'The Theatrical Trailor' and 'Deleted Scenes'. Since this movie mainly relied on its songs and dances as its USP (unique selling point), the 'Making Of Songs' feature is the main attraction for movie-buffs. We get to see the recording sessions where the trio of Shankar, Ehsan and Loy combined their musical wits with lyricist Gulzar to create some energetic and entertaining tracks like Jhoom Barabar Jhoom, Ticket To Hollywood and Kiss Of Love.
Choreographer Vaibhavi Merchant explains in detail what exactly went into choreographing each song. The stars- Abhishek Bachchan, Preity Zinta, Bobby Deol and Lara Dutta share with us the fun and games they had on the extravagant sets and all of them are unan