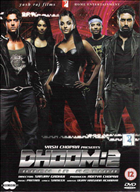 Any true movie-buff is not just content looking at the glitz and glamour of cinema and its stars; he wants to know much more about the fascinating process of film-making where so many talented artists put their hearts and minds together to create a memorable celluloid spectacle. The advent of DVDs has brought a wealth of cinematic reference material to home theatres. Watching special DVD- extra features like 'Making Of' documentaries, 'Deleted Scenes', 'Director's commentary' and artist- interviews is often as interesting as the movie itself. But until recently Bollywood hadn't paid much heed to this pressing need and demand of movie-buffs.
Just last year, while interviewing the great Big B- Amitabh Bachchan, I had asked a pointed question about lack of 'Behind the scenes' kind of informative material for Indian cinema and in his famous baritone, the ageing superstar had thoughtfully replied- "I think as a nation, India lacks the desire to research and keep records. But somewhere down the line, all of us will have to seriously think about documenting all our creative works."
Thankfully the situation is changing for the better and Indian film-makers are slowly but surely following the admirable Western trend of providing an interesting insight into the creativity that goes into film-making. Better late than never but finally Bollywood- (after seeing the successful Hollywood example!)- has realized importance of presenting DVD-extras as value-added features.
The Yashraj- example
Yash Chopra's Yashraj- banner has been at the forefront of this Indian DVD- revolution. They not only own the DVD-rights of their own super-hit films but also of the classic films of legendary film-makers like B.R. Chopra, Raj Kapoor, L.V.Prasad and Pramod Chakravorthy. Add to that their collaboration with modern film-makers like Karan Johar and the Yashraj- hold on Indian home-entertainment becomes well apparent. But to their credit, they have not just monopolized but also modernized the Indian DVD-making.
Attractively packaged and loaded with special features, Yashraj DVDs of blockbusters like Dilwale Dulhaniya Le Jayenge, Mohabbatein, Dil To Paagal Hai, Veer-Zaara , Kabhi Alvida Na Kehna, Dhoom 2 and Kabul Express are plain impressive- to say the least. Each DVD presents in-depth artist-interviews and interesting 'behind the scenes' material but some deserve special mention.
Watching the special f