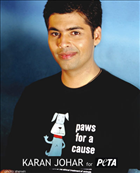 Ten years. That's what it has taken for Karan Johar to transform from a nondescript character actor to be an all powerful movie baron. From being an assistant to director Aditya Chopra and a sidekick for Shahrukh in the 1995 blockbuster Dilwale Dulhaniya Le Jayenge, Karan has come a long way in Bollywood by writing- directing two big hits (Kuch Kuch Hota Hai and Kabhie Khushi Kabhie Ghum) and writing-producing another ( Kal Ho Na Ho) for his family movie-house Dharma Productions.
On May 4, Karan's Dharma Productions (in association to Shahrukh Khan's Red Chilly Productions) will be releasing Kaal – an action-thriller with a supernatural bend. It's quite a departure from the mushy emotional family dramas Karan has dished out so far. When I call him up in London to find out more about his new venture, the suave and media-savvy Karan articulately speaks about Kaal and his career so far. Here are the excerpts from the interview.
Tell us more about Kaal.
Kaal is very different from other films from my movie-house. For the first time, I am working with actors like John Abraham, Vivek Oberoi, Ajay Devgan, Easha Deol and Lara Dutta. It has been my constant endeavor to expand my artistic horizons and a film like Kaal, exploring the action-thriller- horror genre is one such effort.
The USP of this film is its breathtaking action sequences. Originally it was supposed to be a song-less venture but to promote the film we decided to include three songs- or let's say music videos- Kaal Dhamaal, Tauba and Nassa. All of them have really created a stir.
But let me tell you one thing, this film is entirely director Soham Shah's baby. He has written, conceptualized and directed the film. He came to me with a script and I really liked it. I always want to give a chance to new talents. That's why Nikhil Advani directed Kal Ho Na Ho and now it's Soham's turn. My role in this film is just that of a producer.