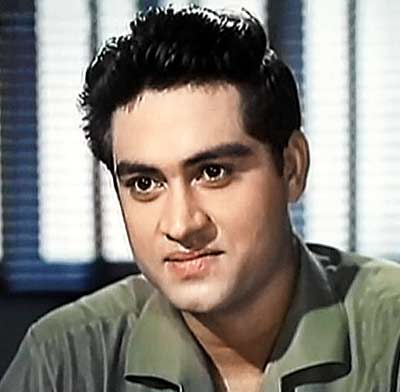 Although his acting was no joy to watch, Joy Mukherjee's tall figure, chocolate looks and expressionless face somehow connected with the masses and in his heyday, he got counted among top five heroes of the sixties. As major film- maker Shashdhar Mukherjee's son, he had his father's Filmalaya banner at his disposal and they developed a winning formula of fluffy romance, rib- tickling comedy, dash of suspense and pleasing songs. When his career started slumping, he even tried his own hand at film- making but his ambitious ventures – Humsaya and Love In Bombay bombed badly and soon, he was relegated to sidelines.
Love in Simla (1960) was the daddy- made entry vehicle for Joy – a big hit, which also marked debut of Sadhana. An orphan girl – Sadhana in geeky specs and gawky outfits- is staying with her uncle's family, constantly being teased over her unattractive looks by her good- looking cousin sister (Vijaya Lakshmi). Tired of this constant bullying, the girl challenges the cousin that she would win over her (cousin's) fiancé (Joy Mukherjee). The doting grandmother (Durga Khote) then transforms this ugly duckling into a beautiful swan and suddenly the fiancé finds himself attracted to her. The first half of this film is a breezy comedy, full of crazy situations but the unnecessary dose of sentimentality in the second half takes away some of the sheen. Iqbal Qureshi's music managed to give a few hit songs, which have not really stood the test of time!
Ziddi (1964) is a Pramod Chackravorthy film and a nice one at that. A rich spoilt tomboyish girl (Asha Parekh) is constantly trying to go one- up on a smart Tea- estate manager (Joy Mukherjee), employed by her father. Instead she falls in his love and golly, she is transformed into an ideal Indian woman! The onus is more on fun and music (Raat Ka Sama and Teri Surat Se) and the formula clicks.
Shagird (1967) is yet another enjoyable light romantic comedy. A rich young man (Joy Mukherjee) is totally enchanted by a madcap professor (I.S. Johar), who preaches abhorrence of love and women. In spite of that, the young guy falls for a cute girl (Saira Bano) and when he tries to seek approval of his Guru, the middle- aged master himself loses his heart to the belle. The antics of this woman- hater turned into lover, trying to look young and scheming to get his 'competitor' 'pupil' out of his way make for a good viewing. Excellent music (Woh Hai Zara Khafa Khafa and Dil Vil Pyar Vyar) is another plus point.