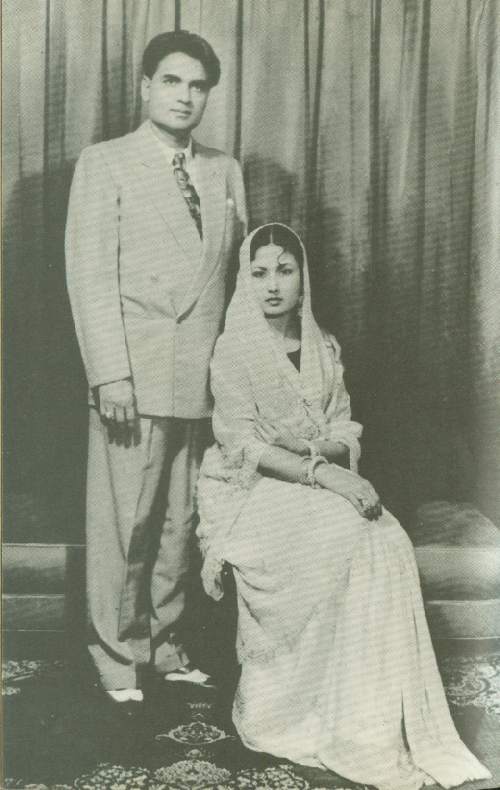 With a grand total of 4 movies (3 of them memorable!) in a career of over fifty years and a famous failed marriage with tragedy queen Meena Kumari, Kamal Amrohi made it to the list of the most talked-about maverick film- personalities in Indian cinema.
He first shot into prominence with his impressive dialogue writing for Sohraab Modi's historic costume drama Pukaar (1939). His writing flair and command over Urdu also saw him write dialogues for the all-time classic Mughal- E- Azam (1960). As a director and film-maker, he showed great flight of imagination and picky perfectionist attitude but his films Mahal (1949), Daaera (1953), Pakeeza (1970) and Razia Sultan (1985) – the last two taking more than a decade each to complete- had glaring cinematic flaws. More often than not, in his films he let the narrative lose its grip and let it wander aimlessly. Mahal, Pakeeza and Razia Sultan are all afflicted by these limitations but each in its own way counts as a landmark film.
Mahal (1949) was the first Hindi movie ever to explore the re-incarnation theme. Amrohi's use of innovative camera angles and lightings in a setting of a sprawling, secluded mansion creates perfect haunting atmosphere and superbly dark and dangerous supernatural undertones for this tale of two failed lovers but soon it peters out into a boring love triangle, only to spark some interest at the unusual tragic end. Ashok Kumar and Madhubala's poised performances and Lata's eternal beauty Aayega aanewala are the redeeming features of a promising project gone awry.
Pakeeza (1971) is a story of romance between a courtesan (Meena Kumari) and an aristocrat (Raj Kumar) and their trial by fire. The failed love story of courtesan's mother (Meena Kumari again!) and the aristocrat's uncle (Ashok Kumar) serves as the backdrop. It is a movie marred by Meena Kumari's sickly looks and jarring continuity lapses. It was Meena Kumari's death soon after the release of the movie and Ghulam Mohammed's exquisite music (Chalte Chalte and Thaade Rahiyo) that made it a surprise hit.
Razia Sultan (1985) is a historical movie with lavish settings and beautiful songs (Ai Dil-e-nadaan and Jalta Hai Badan). Again, the long time taken to complete this film shows and somehow this love story between an empress (Hema Malini) and her slave- cum- weaponry trainer (Dharmendra in a horrible black make-up as a Habshi) with a dash of palatial intrigues never reaches its potential.