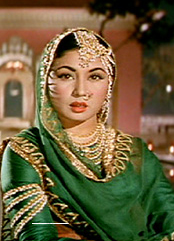 Born as Mahjabeen and rated by many critics as perhaps the greatest actress ever to grace Hindi cinema, Meena Kumari was the uncrowned 'Tragedy queen'- a female equivalent of Dilip Kumar. Her screen image of silent, self-sacrificing Indian woman depicting that innocent post- Independence idealism of fifties might have become outdated in modern world but the deep emotions she brought alive in her roles can still generate the same empathy and sympathy even in today's audiences.

Here are few of her notable films.
Sahib Bibi Aur Ghulam is a Guru Dutt classic bringing forth the decadent feudal life-styles in Pre- Independence Bengal and presents Meena Kumari's most acclaimed role. The 'Chhoti Bahu' (Younger daughter-in-law) played by her is a woman trapped in a meaningless marriage. Her husband (Rehman) is a filthy rich landlord whose life revolves around wine and other women. To win his love, 'Chhoti bahu' goes to any lengths – from using a supposedly charmed 'Mohini Sindoor' to even drinking liquor from his glass- (An unpardonable sin those days!). In spite of all her efforts, the wayward husband fails to come around and turns the lady into a brokenhearted alcoholic. Meena Kumari's portrayal of 'Chhoti Bahu's frustration, desperation, sorrow and anger is a terrific, moving performance. Guru Dutt plays an innocent village bumpkin staying in landlord's sprawling mansion, who is the only sympathizer and confidante of the lady. His love story with his employer's daughter (Waheeda) provides the lighter moments but the more fascinating to watch is his mute admiration and platonic love for Chhoti Bahu!
Hemant Kumar's music and Geeta Dutt's voice conjure classic songs such as 'Na Jaao Sainya' and 'Koi Door Se Aawaz De Chale Aao'.

In Dil Apna Aur Preet Parayi, Meena Kumari plays a nurse in love with a doctor (Raj Kumar). Thanks to family obligations, the doctor ends up marrying a rich and spoilt girl (Nadira). The jealous, suspicious wife does everything possible to make the parted lovers miserable but finally fate intervenes! A mushy melodrama where Nadira's fiery performance overshadows the Tragedy Queen's act!

Shankar-Jaikishan's fabulous soundtrack features multiple Lata- gems like 'Mera Dil Ab Tera O Saajana', 'Andaz Mera Mastana', 'Dil Apna Aur Preet Parayi' and 'Ajeeb Daastan Hai Yeh'!
Dil Ek Mandir is a typical love triangle from the sixties. Meena Kumari plays a lady facing the dilemma of handing over her ailing husband's (Raj Kumar) life to her past lover (Rajendra Kumar) who ironically is the only doctor available with an expertise to cure that illness! The emotional tangle in which all the three protagonists find themselves makes for a gripping sentimental saga.

SJ once again come up with great Lata-classics like 'Ruk Jaa Raat Thaher Jaa Re Chanda' and 'Hum Tere Pyaar Mein Saara Aalam Kho Baithe'.
Main Chup Rahungi is yet another silent sufferer's roles from Meena – competent but nothing great. A rich boy (Sunil Dutt) falls for her and marries her in secret. His father makes her realize that her poverty would make her the social stigma for family. Despite knowing that she is pregnant from his son, he makes her promise to go away from his son's life and never to reveal her motherhood. How she manages to honour her promise and in the end win back her honour is the tale. It's a sob story enlivened by Honey Irani's lively child role.Chitragupt's music ('Koi Bata De Dil Hai Jahan' and 'Mere Dil Kabhi To Koi Aayega') provides some melodious moments.