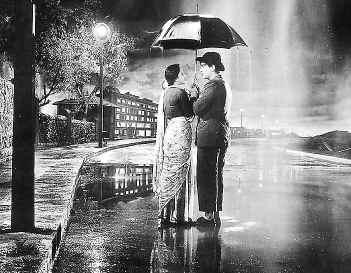 Behind every successful man, there is a woman. For the ultimate showman of Hindi film industry- Raj Kapoor, it was Nargis. She was not only his heroine, she was his muse, his inspiration. Their screen pairing and their unique chemistry went a long way to make their films into classics.
There was nothing overt or obscene in RK – Nargis screen romance. The way they looked at each other, the way they conversed, the way they interacted – those subtle glances, those little words, those silent pauses and those tender touches were enough to tell that there was love in air. It was sheer magic. Expressiveness of their lovely faces coupled with RK's legendary camera-sense created some exquisite romantic scenes. Here is a look-back at three of their best movies.
Barsaat (1949) was RK's second venture after a critically acclaimed commercial failure- Aag. Real love is spiritual, much stronger than mere physical attraction and it can make or break lives is the theme explored through a rather jerky story of two pairs of star-crossed lovers (Raj – Nargis and Premnath – Nimmi). It makes up for its lack of finesse and flair with a superb soundtrack with non-stop hits like Hawa Mein Udata Jaaye and Barsaat Mein Humse Mile Tum.
In Awara (1951), a judge (Prithviraj Kapoor) leaves his pregnant wife (Leela Chitnis) to her fate, fearing public backlash of the fact that she was abducted by a dacoit (K.N.Singh). Born in poverty, deprived even of his father's name, the judge's son (Raj Kapoor) tries his best to lead a straight life but is forced to become a vagabond petty criminal. He meets his childhood love (Nargis), who is now under the judge's guardianship. Soon the paths of father and son cross leading to a gripping finale. For a man who strongly believes that crime is in blood, the judge has to accept bitter truth that circumstances lead to crime. RK's famed song-taking is evident in the path-breaking dream song sequence – Ghar Aaya Mera Pardesi.
In Shree 420 (1955), Raj plays a young graduate from Allahabad, who comes to Mumbai in search of a job. His Chaplin-esque simpleton laundry-boy falls in love with an idealist teacher (Nargis). Some high society crooks then lure him into becoming a suave swindler. Only then he realizes that crime only pays in short run and love and humanity are the virtues that finally bring happiness. Again some fine songs on view – especially a short and sweet O Jaanewale Mud Ke Zara Dekhte Jaana!