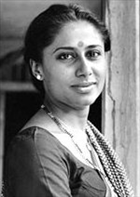 Whenever there is a discussion about talented and intelligent Indian actresses, Smita Patil's name is sure to come up. Within her relatively short career spanning just over a decade (1975- 86), Patil left behind an impressive body of celluloid works, roles that rank amongst the finest in history of Indian cinema. Dark complexion, chiseled face and eloquent eyes defined her unusual beauty. Since the time, she made her debut in Shyam Benegal's Nishant, Patil was identified as a rare acting talent, capable of portraying intense and complex characters. Her bold screen portrayals went a long a way in changing the Indian heroine's age-old glamour doll-cum- sacrificial lamb image. In the late seventies and early eighties, Patil (along with her colleague and competitor Shabana Azmi) carried the torch of parallel cinema- a short-lived cinematic movement which strived to make serious and meaningful films, going away from Bollywood's commercial norms. Later on with high profile films like Namak Halal and Shakti, Patil proved that she also had it in her to succeed in the commercial milieu but just when her career was on the rise, cruel hands of fate snatched her away- just days after she had delivered a baby boy!
Here are three of her most acclaimed performances to remember her by.
Bhumika (1977)
In this Shyam Benegal- film based on Marathi actress Hansa Wadkar's autobiography- 'Sangtye Aika', Patil plays the central character of Usha- a famous actress in the 1940s that is far cry from the docile domesticated ladies of those days. Usha's impulsive colorful life goes through transient turbulent relationships. She is a spirited woman with her own mind, unafraid of taking on the world and doing what she wants! Unfortunately she finally finds out that living life is just like playing a different role (Bhumika!) from time to time! A superlative award-winning performance!
Subah (1982)
Director Jabbar Patel had originally made this film as
Umbaratha in Marathi. Here Smita plays a bored housewife from a rich family who takes up the challenge of being the superintendent of a destitute women's reformatory home in a remote village. Her idealistic vision soon starts crumbling as the women inmates resent her disciplinary ways and the local p