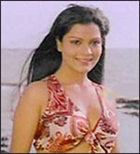 For her family, she was 'Babushka' but for her fans she was 'Zeenie baby'- the ultimate sex symbol, the Chura Liya Hai- pin-up gal. This 1970 Miss India-cum- Miss Asia was picked up by Dev Anand to play his lost, hippie sister in Hare Rama Hare Krishna – a performance for which she promptly picked a Filmfare award as 'Best supporting actress'. With hits like Yaadon Ki Baraat and Roti Kapda Aur Makaan, Zeenat became an established starlet by the mid- 70s.
This tall and buxom belle with an anglicized Hindi accent, who had no hesitation to part with her apparel at the drop of the hat, would never ever really be recognized as a great actress but she wasn't just a dumb bombshell either. Time and again, she showed glimpses of good acting but those performances always got smothered by oodles of oomph she oozed on screen!
Satyam Shivam Sundaram – an RK movie in which she supposedly got the role by appearing in a shower-drenched sari at Raj Kapoor's farm-house, was supposed to be a showcase of Zeenat's acting talent. Instead the great showman concentrated entirely on Zeenat's dare-bare looks in the film and made a mockery of the central theme that the real beauty lies in heart and not in appearance! A lavish production with superb songs like Bhor Bhayi Panghat Pe and Yashomati Maiya Se, the film failed to connect to audiences due to its superficiality.
.
Qurbani was a Feroz Khan blockbuster – a typical masala film with elements of crime, friendship and sacrifice. Zeenat played a club dancer who is in love with a golden hearted goon (Feroz Khan) but finds herself in an emotional tie with her lover's best friend (Vinod Khanna), unwittingly becoming an object of jealousy. Her steamy cabarets – Laila Main Laila and Aap Jaisa Koi set the screen on fire.
Insaaf Ka Taraazu ranks as her most impressive role. In this Hindi version of a B-grade English thriller Lipstick, Zeenat plays a super-model who is raped by a rich admirer (Raj Babbar). After losing the courtroom battle to bring the culprit to book, she loses everything – her emotions, her job and her belief in justice. That emboldened perpetrator further even dishonors her younger sister (Padmini Kolhapure) and enraged, she (Zeenat) kills him. B.R.Chopra's masterly courtroom scenes and Zeenat's able histrionics both shine in a melodramatic finale with some hard-hitting comm