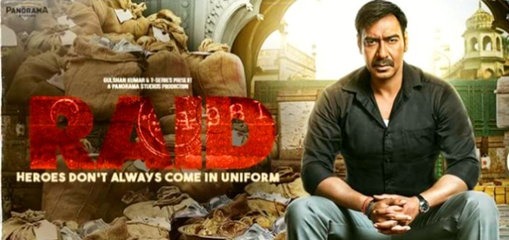 Raid
Year: 2018
Director: Raj Kumar Gupta
Cast: Ajay Devgn, Ileana D'Cruz, Saurabh Shukla
In 1981, Lucknow's Income tax Commissioner Sharda Prasad Pandey conducted an IT raid on the serving Congress MLA Sardar Inder Singh. It was the longest raid in Indian history and one of the most daring and controversial ones.
Taking inspiration from that real life incident and characters, director Raj Kumar Gupta (who has given some notable films such as Aamir and No One Killed Jessica) delivers Raid.
What's the plot?
An incorruptible IT officer (Ajay Devgn), a man who keeps getting transferred from one place to another for his honest work, has been recently transferred to Lucknow. He gets an anonymous tip about a powerful local politician (Saurabh Shukla) and conducts a massive raid, which goes on for days and unravels loads of undeclared assets. The politician tries all the ways to silence the upright officer and to get the raid stopped. Will truth prevail in the end?
What's hot?
Interesting first 30 minutes.
Ajay Devgn's brooding performance.
Saurabh Shukla is excellent as the cornered ruthless politician.
What's not?
The story and the direction both fail to convincingly etch out the main characters. The side-characters are totally neglected. There is not enough pace, drama or intrigue, and the film keeps moving in circles.
The romantic angle between the IT chief and his wife (Ileana D'Cruz) and the songs are just there to pad up the film.
Verdict
With better writing and well fleshed out characters, Raid could have become a good thriller. Instead it just comes across as a lackluster predictable film relying on two good performers. An interesting one-liner doesn't make up an engaging plot and that is the main problem of this film.
Rating
2.5 stars