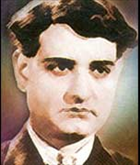 Jab Dil Hi Toot Gaya
K. L. Saigal
Film: Shah Jehan (1946)
Composer: Naushad
Kundan Lal aka K.L.Saigal was the uncrowned king of Indian popular music in the Thirties and Forties. His nasal style of singing and the slow tempo of his songs may not appeal to listeners of today but no connoisseur of Indian music could deny the timeless appeal of his singing- simple and soulful. Not only did he dominate the musical scene like a Colossus, he also inspired a whole generation of great singers like Rafi, Mukesh, Kishore Kumar and C. H. Atma.
When Saigal came to record this song for the film Shah Jehan, he told his composer Naushad, "Oh, I can't really sing without Kaali Paanch." This musical reference was not about his singing pitch but about his alcohol addiction! He had this firm belief in his mind that without consuming alcohol, he couldn't sing to best of his ability and that's why he had kept the code word- Kaali Paanch for his peg!
Alcohol had already taken a heavy toll on his health and he was then almost on the last stretch of his life. Instead of preaching, Naushad politely replied, "OK, sir. First we will record without the Kaali Paanch and then with it. Then you yourself decide which version sounds better." After the song was over, Saigal apologetically said, "The first version is much better. I wish I could have corrected my habit earlier."
Saigal did not live long enough to savour the immense success of this song. The poignant lyrics – Jab Dil Hi Toot Gaya, Hum Jee Ke Kya Karenge – told a sorry tale of a broken heart nurturing a death wish.
The legend goes – Saigal wanted this song to be played at his funeral – a song that represented a sad, unnecessary waste of a great musical talent. It was the swansong of an immortal legend.