How does one profile a man who had so many talents? Singer, composer, lyricist, story- writer, actor, director, producer – each a full time job by itself but Kishore Kumar handled all those jobs with finesse and then did some more. Today years after his death on that inauspicious 13th October of the year 1987, memories of this multi-faceted genius remain green as ever.
Early Life
Born in Khandva, Madhya Pradesh in the town's most successful lawyer's household, Kishore started picking tricks of his trades right from childhood. His elder brother Ashok Kumar – a legendary actor himself, reminisced how young Kishore picked the comic flair from their funny father. This was to serve him well later in his acting career. The musical training came just from listening to K.L.Saigal's records. Kishore used to tell Ashok – who was making a name as a singing actor himself in the forties, "Dada, your song is just a quarter rupee coin, the real rupee coin is Saigal's song."
1949 film Ziddi marked Kishore's entry in Hindi cinema. On screen, he played a bit role of a bad- mouthing gardener and behind the screen, he sang Marne Ki Duaayein Kyun Maanguu to be playbacked on the film's hero Dev Anand. While listening to that first song today, one is nonplussed about the Saigal –influenced nasal singing of Kishore. All in all, it was a none-too-impressive debut.
A born artist
Soon he evolved his own, inimitable style as an actor and as a singer. After watching Andolan (1951) his first film as a hero, bewildered Ashok Kumar asked the film-maker Fani Muzumdar, "Where is his acting? It never shows up on screen." Muzumdar replied, "That is his real strength. He is a natural actor."
Years later, while talking about Kishore's singing, veteran singer Manna Dey was to tell me the same thing, "Kishore never had any formal musical training. He was a natural singer. Never ever did he sing a wrong note or miss a single beat." This naturalness, lack of artifice and spontaneity marked him as a special artist. Even his trademark yodeling – (Remember Main Hoon Jhum Jhum Jhum Jhumroo?)- was 'learnt' by listening to Jimmy Rogers' records.
Ashok Kumar told a funny tale. Apparently Kishore had a very bad, hoarse voice in childhood. Accidentally, once he cut his finger with a kitchen knife and went on crying for days. According to Ashok, it was that incessant crying that corrected Kishore's voice!
Comedian par excellence
In contrast, it was his ability to induce incessant laughter that made him such a popular actor in fifties and sixties with hits like New Delhi, Bhai Bhai, Chalti Ka Naam Gaadi and Half Ticket. His peculiar brand of humour with a lot of facial and body gestures, superb miming and excellent timing, made him a hot favourite as a comedian hero. Practically every top heroine – from Meena Kumari to Vyjayanthi Mala played his leading lady sometime or other.
If you want to experience his special brand of comedy, then I would recommend one particular scene from Half Ticket, no, not where he is playing a mentally retarded 'kid' in half pants and a pair of spectacles to woo Madhubala; it's the scene where he is playing a salesman who has come to deliver a record player at a lady's place. This lady (Shammi) – the side-kick of the villain (Pran), then tries to entice Kishore into dancing with her, in order trying to find out whether he is hiding their stolen diamond in his trousers' back- pocket. As her hands keep on coming onto his bottom trying to reach his back-pocket, the poor guy- totally ignorant of this whole 'diamond' scenario, keeps himself gyrating, all the while saving his bottom from the lady. His baffled facial expressions and his crazy dance steps in this scene are just hilarious!
Actually this comic image hampered his acting career by limiting his roles only to that genre. His serious films like Naukari and Musafir were rejected outright by audiences. His best serious role was in his own production – Door Gagan Ki Raahon Mein. His portrayal of a father battling to cure his mute child was superbly moving.
As a film-maker, he veered from being excellent to plain ridiculous. If his earlier films Jhumroo, Chalti Ka Naam Gaadi, Door Gagan Ki Chhaon Mein and to an extent, Door Ka Raahi were examples of good cinema, then all his latter films like Badhati Ka Naam Dadi and Chalti Ka Naam Zindagi were simply terrible.
Back as a singer
All the while, when his acting career was thriving, his singing had taken back stage. Those days he only gave playback for himself and for Dev Anand. Even in those days he was singing occasional gems like Aa Chalke Tujhe, Nakhrewali and Koi Lauta De Mere Beete Huye Din, but still composers were mostly making him sing frivolous comic numbers going with his screen image. In fact, in those days, most of his good songs were composed by only two composers – one was Sachin Dev Burman and the other was Kishore himself.
The turn-around came at a difficult period in his life. He had just lost his wife – Madhubala; his movies were doing badly and he was at crossroads of his career. Composer Sachin Dev Burman, always reserving his best for Kishore, revived his career as a playback singer and as the budding superstar Rajesh Khanna crooned Roop Tera Mastana, Mere Sapnon Ki Rani Kab Aayegi Tu and Kora Kaagaz Tha Yeh Man Mera in Aradhana (1969), Kishore Kumar's voice became the rage of nation.
There was a time in the sixties, when the then reigning number one playback singer Mohammed Rafi had given playback for Kishore in songs like Man Mora Baawra and Ajab Hai Dastaan Teri Aye Zindagi, but now the wheel of fortune had turned a full circle. Kishore Kumar was now the new playback king. Every actor, young and old, now wanted Kishore to sing his songs.
From then on he never ever let go of his top position as a playback singer and composers – better late than never- provided him with ample opportunities to prove his mettle. So we got to hear his mellifluously macho voice in romantic classics like Yeh Shaam Mastani and Pal Pal Dil Ke Paas; soulful sad songs like Badi Sooni Sooni Hai and Chingari Koi Bhadke; colourful qawwalis like Sachchai Chhup Nahi Sakti and Kahin Janaab Ko and breezy fun-songs like Khaike Paan Banaraswala and Pag Ghungaroo Baandh.
A Maverick By Choice
His four marriages and his off-screen eccentricities like talking to his beloved trees and asking his interior decorator to build a swimming canal in the living room made his image as a moody, madcap maverick but for those who really knew him well, vouched that it was just a put-on act to cover up his troubled soul that cried Koi Humdum Na Raha, Koi Sahara Na Raha.
Actually in one of his TV interviews taken by none other than Lata Mangeshkar, he had confessed, "Actually I like to portray myself as an eccentric. I enjoy watching people's shocked faces when I do these antics!"
Towards the end of his career, his voice had thickened but still retained its hold on listeners. For the same voice could suddenly transform itself in a sublime, feather soft Chhookar Mere Man Ko. Remembering Kishore is all about remembering all these magical moments where his artistry touched our heavy hearts to make them a little lighter and also made our dull lives a shiny bit brighter!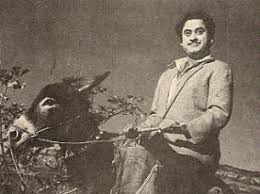 <