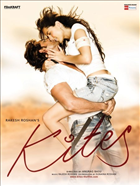 Rajesh Roshan
The Roshan- trio (Rakesh, Rajesh and Hrithik) have proved to be a winning combination in Kaho Na Pyaar Hai, Koi Mil Gaya and Kkrish, But in Kites, their musical chemistry fails to sizzle. It is an album that seems to be too introspective and too mellow for public consumption. It is decent music alright but not exactly typical blockbuster music!
The album begins with two soft ballads – a philosophical Zindagi Do Pal Ki and a romantic Dil Kyun Yeh Mera, both of which are excellently rendered by KK. The highlight of the album is Hrithik Roshan's maiden singing effort – Kites In The Sky. In this English-Spanish romantic ballad, Roshan Jr. pleasantly surprises with a nice soft rendition and is ably supported by Suzanne.
The largely sober sedate album is revved up by Vishal Dadlani -Suraj Jagan's rock- flavoured dance-track Tum Bhi Ho Wahi and Rajesh Roshan- Vishal-Anushka-Anirudh's rhythmic fusion-theme Fire. Later in the album, most these numbers come back as remixed tracks.