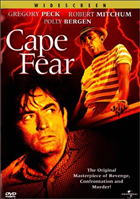 Cape Fear
Year: 1962
Dir: J. Lee Thompson
Cast: Gregory Peck, Robert Mitchum
Coming off the 1961-success of his World War II-classic Guns Of Navarone, director J. Lee Thompson made this chilling thriller in 1962. The black-and-white film perfectly captured the tense psychological drama on celluloid.
Based on the novel 'Executioners', the film is a classic Good Versus Evil battle. Sam Bowden (Gregory Peck) is a small-town lawyer, successful in his profession and living happily with a beautiful wife and a teenage- daughter. Bowden's happy peaceful life gets an unexpected jolt when out of the blue he encounters Max Cody (Robert Mitchum) - a dreaded sex-offender he had earlier testified against. Cody has come to town with a specific agenda- he wants a vendetta against Bowden- the man who sent him to prison!
Cody now starts stalking and terrorizing Bowden and his family. Armed with the knowledge of law that he studied in the jail, Cody also manages to keep the police at an arm's length. As all his legal methods prove helpless to get rid of this menacing threat to his family, Bowden now decides to take Cody head-on but it still has to be a clever plan. Will his plan succeed?
Despite Gregory Peck's strong performance as an upright lawyer forced to defend his family's honor, it is Robert Mitchum's Max Cody who proves to be the life of this film. The way he portrays Cody's cold, clever and calculated villainy on screen is surely one of the all time great performances. The film never goes for overt violence but still manages to keep you at the edge of your seat.
Director Martin Scorcese made a remake of Cape Fear in 1991 featuring Robert De Niro as Cody but despite all its modern glamour and gore, it paled in comparison to the original classic.