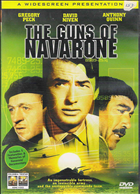 The Guns Of Navarone (1961)
Director: J. Lee Thomson
Cast: Gregory Peck, Anthony Quinn, David Niven
In terms of action, adventure and adrenalin-rush, few war-movies have ever matched The Guns Of Navarone – a 1961-film based on Alistair MacLean's equally super-charged novel. Such is the realism of this story that one often tends to forget that the entire pulsating plot of this exciting film was purely a work of fiction.
The story begins in 1943 – at the height of World War II. On the Greek Island of Kheros, 2000 British soldiers are stranded. If they are not rescued within a week, then an impending German onslaught would simply wipe them. But the Aegean Sea channel leading to Kheros is guarded by Navarone- a Greek Island occupied by Germans. Two powerful artillery cannons- situated deep within a strong rock on an impregnable high cliff on Navarone, hold the key to German dominance. Unless Allied Forces find a way to destroy these guns, the rescue mission is impossible and the loss of 2000 lives is imminent. After a failed air-strike on the guns, (which claims lives of 18 allied pilots!); the allied intelligence decides to send a crack team of specialist saboteurs to achieve this mission of destroying the strategically located German guns.
Ace mountaineer Captain Mallory (Gregory Peck) heads this team comprising of Greek resistance fighter Col. Andrea Stavros (Anthony Quinn), British strategist Major Franklin (Anthony Quayle), explosives- expert Corporal Miller (David Niven), Greek marksman Pvt. Spyros Pappadimos (James Darren) and expert knives man Pvt. 'Butcher' Brown (Stanley Baker). Braving a German U-Boat encounter, a stormy sea and a treacherous mountain- climb, the team finally reaches Navarone. There they meet two girls- Maria Pappadimos (Irene Papas) - a Greek resistance-member and Anna (Gia Scala) - a victim of German atrocities. But with rampant Germans on the lookout and a turncoat within the team, will they achieve their almost improbable mission?
Director J. Lee Thomson establishes each character in minute detail and yet, he manages to keep the film pacy and action-packed. The Oscar-winning special effects still seem pretty impressive. The international ensemble cast- particularly Gregory Peck, Anthony Quinn and David Niven are superb in their portrayals. With twists, turns and thrills torrentially coming at you, there is not a single dull moment in this war-drama par excellence. A victory of good over evil; a triumph of will over adversity- the formula of The Guns Of Navarone is simple and predictable but still very much enjoyable!