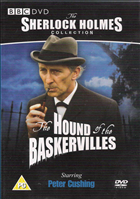 Sherlock Holmes: The Hound Of Baskervilles
Dir.: Graham Evans
Cast: Peter Cushing, Nigel Stock
For the mystery-lovers, "The Hound Of Baskervilles" has always remained one of the most cherished Sherlock Holmes-adventures. Sir Arthur Conan Doyle's classic literary creation featuring the exploits of the genius crime-buster Holmes and his trusted lieutenant Dr. Watson has continued to entice generations of readers and it has also led to many stage and screen adaptations. This 2 disc-BBC presentation features the 1968- television version.
Even though most avid readers must be familiar with the famous plot, here is a gist for the uninitiated. A young nobleman Sir Henry Baskervilles comes to consult Holmes (Peter Cushing) and Watson (Nigel Stock) in London. His problem is unique. He has just inherited a huge estate at Dartmoor, a small county-side town but he has received an anonymous letter imploring him not to come there. He has come to know of a centuries-old family curse whereby a giant supernatural hound is hunting down all the male Baskervilles heirs. Apparently his recently deceased uncle has also been a victim to this fabled beast.
Holmes sends Watson with the young baron to investigate this matter and promises to join them later. The Baskervilles estate soon starts to play its tricks on the already suspicious minds of its new inhabitants. Is there really a ghostly hound waiting to pounce upon the latest Baskerville heir? Or is there a sinister plot in the offing?
The laid-back late sixties- style is evident in the making of this series but the production values are good. The on-location outdoor shooting at Dartmoor and faithfulness to original plot are two notable features. Cushing's Holmes is believable but not in the Jeremy Brett's celebrated class!