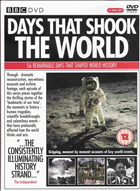 Pages of history-books are full of momentous occasions and memorable days that literally shook the entire world through their impact. The BBC-docudrama series- 'Days that shook the world' gives us a virtual feel of such seismic historic milestones. Each episode of the series presents two similar-themed but historically distant events, which are documented through well-researched dramatic reconstructions, eye– witness accounts and archived audio- video footages. Wars, revolutions, conspiracies, assassinations, disasters, accidents, heists, hoaxes, discoveries, inventions, terrorist acts- the wide-ranging selection covers diverse colorful events spanning several centuries and continents.
Galileo's trial for blasphemy, a daring theft of British crown jewels, Wright brothers' first aero-plane flight, discovery of Tutankhamun's tomb, Hitler's suicidal end, nuclear bombing of Hiroshima, formation of Israel, the British queen's coronation, the great UK-train robbery, JFK's assassination, Armstrong's landing on moon, Richard Nixon's resignation, Lockerbie bombing, Lady Diana's death-- this remarkable series brings 56 such earth-shaking eventful days to the screen, giving viewers a rare chance of saying-'I saw it as it happened on that day'! It is a fascinating personalized, hour-by-hour look at world- history's most memorable milestones.
s is usual with the BBC documentaries, the production values are superlative and the period feel is impeccable. This box-set is certainly a collector's item!