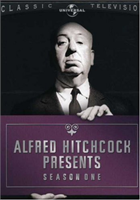 With many memorable mystery-thriller classics like Psycho, Rebecca, Dial M For Murder and Vertigo to his credit, Alfred Hitchcock is rightfully called the Master of suspense. As the television started to become a powerful medium in the mid-50s, he became a TV-presenter and created a series-'Hitchcock Presents', which presented short stories of mystery and suspense.
While watching this series, the first thing that strikes you is Hitchcock himself! He makes memorable entries and exits at the beginning and end of each episode, explaining the story with his typical deadpan dark humor. He himself directed only a few episodes in the series but his unique stamp is quite evident on the selection of stories and the way they are portrayed on screen. These mysteries follow the typical Hitchcockian formula of subtle build-up, sudden twists-and-turns and shocking climax. True to Hitchcock's style, the suspense mainly deals with complex human emotions and the unlikely interventions of fate.

The series is in black-and-white and is without any subtitles but the digital reproduction is crystal clear. There are 6 DVDs in this box-set and almost each of the 39 episodes grips you with its force and momentum! That's why the series has been voted as one of best ever 100 TV shows!