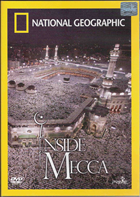 This fascinatingly detailed documentary takes us inside the holiest Muslim shrine of Mecca, which houses the fabled monument of Kaaba- the spiritual centre of Islam. Following the real life travails of people from different corners of the world, the documentary takes us on the physically, emotionally and spiritually overwhelming journey of Hajj (the sacred pilgrimage to Mecca).
Ismail- a Malaysian businessman, Khalil- a South African black radio jockey and Fidelma- an American white lady-physiologist are three Hajj pilgrims coming from three diverse ethnic and cultural backgrounds. The only common bond between them is their faith in Islam. While moving and milling through the sea of 2 million fellow pilgrims, these three people share their personal challenges and spiritual rewards with us. The never-ever-seen-before footage of the key holy Islamic sites and the different important religious rituals involved in the sacred pilgrimage is extremely insightful and interesting.
The accompanying expert commentaries and interviews further enlighten us about the history of Islam and the unique place of Mecca in the ever-growing religion's evolution.
For the benefit of non-Muslim Westerners, the Saudi Minister For Hajj describes the logistic challenges of Hajj as twenty Super-Bowls rolled in one, where two million people not only come to one single stadium but then they actually participate in the game! It's simply that huge, that overpowering!
Documentaries like these are must-watch fares to promote inter-religious understanding and harmony.