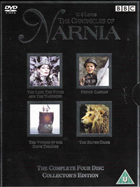 For more than five decades, writer C.S. Lewis' Narnia-series of books have enchanted millions of readers- children and adults alike. In late 1980s and early 90s, BBC recreated these fascinating tales on small screen and now, a special 4-DVD box set presents all of them together.
These TV-films based on Lewis' three books- The lion, the witch and the wardrobe; The prince Caspian and the voyage of the Down Treader and The silver chair present a magical world of Narnia, which is discovered by four kids, when one of them accidentally stumbles upon a wardrobe serving as a secret door to that faraway enchanted land. With the brave lion king Arsalan, the wicked White Witch (played so impressively by Barbara Kellerman), the dwarves, the fauns and the talking animals, there is no dearth of interesting characters in Narnia and plus, the inquisitive kids-Lucy, Peter, Susan and Edmund themselves are a study in contrasting personalities. All these Good Versus Evil, Right Versus Wrong -brand of stories keep you engrossed with their exquisite blend of magic, myth and mature human values.
Since this TV-series was done much prior to the advances in computerized special effects, technically it leaves much to be desired but it still impresses with a detailed script faithful to the Lewis-originals and some good acting. There is a special features-disc which presents interesting extras like special interviews, character sketches, History of Narnia, biography of C.S. Lewis and the outtakes.