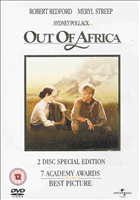 In 1985, director Sidney Pollack's Out Of Africa based on the real life story of a Danish baroness-author Karen Blixen went on to win 7 Oscars including the Best Film award.
In the film, Blixen (Meryl Streep) marries her ex- lover's brother- Baron Bror (Klaus Maria Brandeur) on the romantic rebound and comes to Africa to settle down as a plantation owner. But the marriage flounders thanks to her husband's philandering ways. Soon afterwards, she finds herself getting attracted towards an enigmatic hunter Denys (Robert Redford). She loves his free spirit but resents his frequent prolonged safari excursions. Immersing herself in her work, she gradually starts to love Africa. African way of life excites and entices her to actively mingle with the natives but just when she has come to call Africa her own land, life takes a sudden new turn!
The mere presence of the star actors- Meryl Streep and Robert Redford lifts the film to a higher level. But still Out Of Africa's appeal as a romantic saga is limited because despite all its unusualness, the blow-hot-blow-cold romance seldom touches the emotional chords. This lavishly produced and spectacularly photographed period film succeeds in one thing. It so brilliantly captures the lush green, untamed wilds of Africa of the 1920s and its gradual transition into post-world war I 'civilized' Africa. It certainly makes you fall in love with Africa!
In the extra-features, we get to see the film's theatrical trailer and then there is 'Song Of Africa'- an interesting featurette about Blixen's real life and the film crew's unusual experiences while filming.