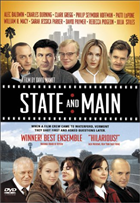 Writer-director David Mamet's year 2000- film State and Main brings Hollywood's up-market celebrities to a practically unknown small town with hilariously disastrous consequences! The enjoyable comedy pokes fun at the stereotypical images of Hollywood stars and small townsfolk!
Searching for an old mill for their film's major shooting sequence, a big Hollywood crew lands up in small town called Waterfront Vermont. When it becomes apparent that the historic old mill burnt 40 years ago, the cash-strapped director (Tom Macy) has no other choice but to ask his idealist writer (Philip Seymour Hoffman) to come up with an alternative script. On one hand, the uptight director has to contend with a heroine (Sarah Jessica Parker) refusing to expose in front of the camera and on the other hand, his superstar hero (Alec Baldwin) is busy seducing young girls! With the town-mayor's star-crazy wife going all-out to throw a special party and the town's bookshop-owning lady ditching her fiancé and falling for the film's writer, the idyllic lives of town-folk are going for a tail-spin!
The film works mainly because as a writer, Mamet manages to create a colourful script full of zany characters and crazy comic situations. It also works because even though these characters are quirky, their portrayal is entirely believable thanks to some wonderful casting and performances. State and Main provides an entertaining incisive insider's look at Hollywood's wheeling dealings and it also highlights general public's insatiable appetite for glitz, glamour and gossip!