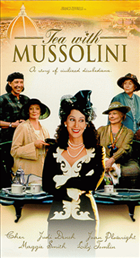 It is always interesting to watch a film when the director has used an autobiographical content in the plot and it is even more interesting when that plot deals with a tumultuous period in director's own life and in World history. Tea with Mussolini tells an engrossing semi-autobiographical tale of director Franco Zefferelli's growing up years in Florence right in the midst of World War II!
The story begins in 1935 with Mussolini's fascism slowly gaining ascendancy in Italy. Some elderly British ladies are enjoying their sunset years in Florence, blissfully unaware of the impending war. Their high-profile group- 'Scorpioni' consists of the ex- British ambassador's stiff upper-lipped widow Mrs. Hester (Maggie Smith), a kind-hearted retired secretary Mary (Joan Plowright) and an arts enthusiast Arabella (Judy Dench). Mary is looking after her boss's illegitimate young son- Luca. In their social outings, these British ladies often come across, (and secretly despise) two American ladies- an unkempt archeologist Georgie (Lily Tomlin) and a flamboyant high-flying socialite Elsa (Cher). Then the war begins and all equations start to change rather dramatically.
In this film, Luca acts as the narrator who first-hand witnesses city's rapidly changing personal and political landscape. But it is the eccentric old ladies who really add special spark and spice to the on-screen proceedings. As a funny, poignant and heartwarming film, Tea with Mussolini works on many levels. It is a coming of age movie; a lavish World War II- period film and an intriguing human drama. It may not be an all time classic but is certainly a worthy watch!