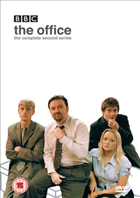 Any office, any work-place is a motley assortment of people with diverse personas. BBC's multiple award-winning 2001-series The Office gives us a bird's eye-view of one such office with a typically languid and wacky British sense of humor. So successful was this show that it later spawned equally popular American, French and Canadian versions.
Using the cinematic device of a mock documentary (a mockumentary!), the camera rolls on taking us on an intimate tour of Slough, Berkshire branch of the fictitious Wernham-Hogg Paper Company, showing the mundane and yet strangely compelling day-to-day happenings in the lives of its employees. The company is closing down one of its offices and the Slough branch is one of the names on the chopping block. With the sword of job-loss hanging over their necks, the employees indulge into the usual work-place drama of tomfoolery, jealousy, love affairs, one-up-man-ship and backstabbing.
The colorfulness of its central characters makes The Office a memorable comedy. David Brent (Richard Gervis) as the highly conceited boss who deludes himself to be extremely funny, fair and intelligent and more often than not finds himself in embarrassing situations; Gareth (Mackenzy Crook)- his weird-looking assistant who unsuccessfully tries to look important while doing unimportant things; Finchy- his rude, raucous friend; Tim – the young executive frustrated with the way his life is going and Dawn- the office receptionist unsure of what she wants in love and career are all genuinely believable characters. So watching these people attend training sessions, compete in the office quiz competition, play practical jokes or go to night-club feels quite real.
The series and its humor (which turns quite nasty and below the belt at times!) perfectly capture overall absurdity of life through a wickedly funny portrayal of human failings in the tedium of the nine-to-five routine!