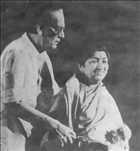 Kahin Deep Jale, Kahin Dil
Film: Bees Saal Baad
Year: 1962
Music: Hemant Kumar
Some songs don't just remain mere frameworks of notes rendered by some voices- instead they go on to become legends, thanks to their historical significance. The Bees Saal Baad- haunting song Kahin Deep Jale Kahin Dil perfectly fits that bill. It was the song that practically resurrected Lata's musical career at a critical juncture.
Bees Saal Baad was a horror- film loosely based on the famous Sir Arthur Connon Doyle's Sherlock Holmes- novel The Hound Of Baskerville. Starring Biswjeet and Waheeda Rehman, this film had some creepy moments to scare the audience but was overall too slack to create a lasting impact. Kahin Deep Jale Kahin Dil was the theme-song of the movie- a song supposedly rendered by a troubled dead soul, a ghost of a girl who had lost her life protecting her honor from a tyrant Zameendar. Everyone in that sleepy town is aware of the mystical appeal of the song. They all know that the notes of this song almost always coincide with the unnatural death of some heir of that cursed Zameendar. With this premise, the song holds the key to the mystery of the movie and keeps repeating at different moments.
Hemant Kumar- the composer of this song was also the producer of the film and father-in-law of the hero- Biswajeet. So he was fully aware of the importance of this particular song. He composed a tune, which was truly haunting, creating a perfect chilling atmosphere of murder and mystery. The choice of the singer was a foregone conclusion. With her brilliant renditions of Aayega Aanewala in Mahal and Aaja Re Pardesi in Madhumati, Lata Mangeshkar had already shown her mastery over the haunting song-genre and Hemantda was sure in his mind that she would be the singer for his composition. But he had not counted on Lata not being able to render the song at all! Well, that almost happened!
Here's an account of what happened in Lata's own words. "Before this song got recorded I was very ill with sinus trouble and asthma for a few months. In spite of all that, I tried to finish the recording. But thrice it happened that I went before the mike and just couldn't sing anything. I was getting very much worried. I even thought that I had lost my singing voice. But everybody around me was very supportive. Hemantda told me- 'Lata, whatever happens, this song is yours! I will wait till you are alright!' Doctors kept reassuring me. Homeopathy treatment was going on. Finally I decided to give it one more shot. I was very nervous before the recording but the song got recorded only in the second take! Everybody started congratulating me but I was so overcome with emotions that I wasn't even able to say anything. I still remember the date. It was June 13, 1961!"
The song that got recorded in such circumstances was to bring Lata her second Filmfare award in 1962. Just listen to those wonderful modulations her voice brings about in Kahin Deep Jale Kahin Dil and then spare a moment to thank our good fortune that she could go on doing such magical things for years to come!