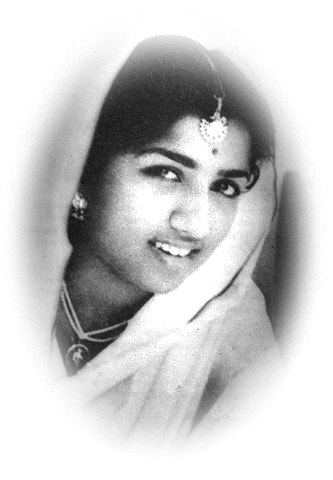 Sapne Huye Saanche
Film: Shri Chaitanya Mahaprabhu
Year: 1954
Composer: R.C. Boral
Youtube link - http://www.youtube.com/watch?v=lkwtf22WWig
The number chosen here is very memorable for me not just for its music. Back in my university days I befriended a gentleman named Dr.Khawar Sohail Siddiqui originally from Peshawar but now residing in Sydney.I landed upon his name while doing an internet search for some rare Lata songs. It was of course pre-youtube days and rare songs were hard to get by and he was extremely gracious. Almost every morning I used to get up, login and find a mail from him with a collector's item as an attachment. Khawar Sahab had several favorites like Anil Biswas, Khemchand Prakash and so on but he was crazy for the man whom connoisseurs revere as the father of HFM; Rai Chand Boral. RC Boral's body of work with Lata is limited to just 2 movies and a huge chunk of that is from Shri Chaintanya Mahaprabhu. Khawar Saheb was desperately looking for songs of this movie. He had heard those songs on Radio Ceylon and exclaimed "Lata ke saare gaane ek taraf aur Shri Chaitanya Mahaprabhu ke gaane ek taraf".
I never heard about the movie at that time but Khawar Saheb's tastewas like a gold standard for me. I used to call Khawar Saheb every other week and he used to inevitably say "Shri Chaintanya mahaprabhu ke gaane talash karo yaar". So the search began, went for a few years, and finally Shri SN Chari based in Chennai kindly sent us the tape.Given this huge buildup, I had very high expectations
about the music. RC Boral, Lata and Bharat Vyas didn't dissapoint.
It was literally "sapne hue saanche" for me, as I finally landed upon a goldmine at the end of a long journey ! I also have very fond memories of making a trip to Chicago after this new discovery and enjoying them with Arunabha Roy.
Even after multiple listens over the years, this song still gives me goosebumps.