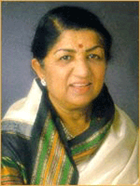 Considering the vast expanse of the web, it is surprising that there is precious little of note when it comes to finding interesting archived material on arguably the greatest singer in India. Here are a few noteworthy sites on Lata Mangeshkar.
1. Rediff's Special Tribute To Lata
On September 28, 1999, Rediff.com paid a special tribute to Lata- comprising of tributes from many movie-music world personalities.
http://www.rediff.com/entertai/1999/sep/lata/lata.htm
2. Hindustan Times Lata- Tribute
On September 28, 2004, Hindustan Times paid a special tribute to Lata- summarizing her life and career- achievements.
http://www.hindustantimes.com/news/specials/lata/bio.htm
3. Neha Desai's Lata- Page
A nicely made site on Lata by Neha Desai- one of her ardent admirers and a regular contributor on RMIM- newsgroup.