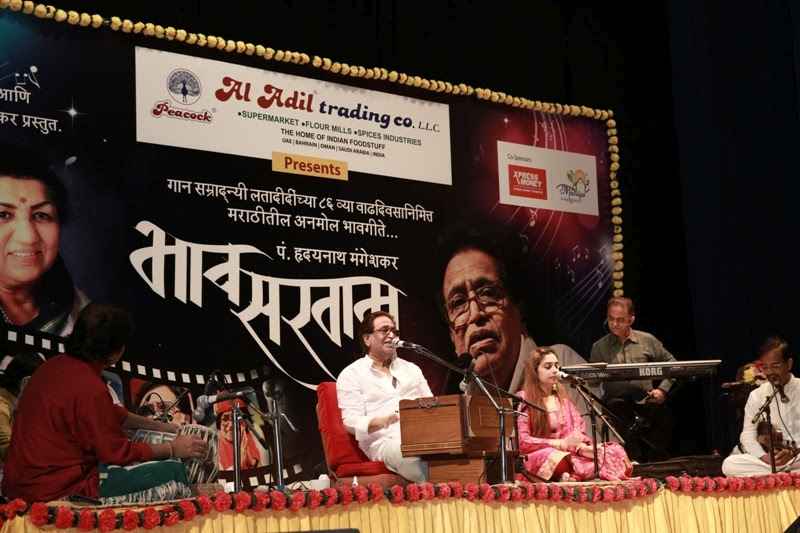 October 2, 2015 is a date that will stay with me forever. I was one of the organizers of 'Bhaav Sargam', a musical program featuring Pandit Hridaynath Mangeshkar (Bala- saheb as he is popularly called!) in Dubai's Emirates International School auditorium. The legendary composer-singer was coming to Dubai after a hiatus of more than twenty years. Emotionally it was a very fulfilling occasion. It was the inaugural musical program in the 'Lata Mangeshkar Sanmaan Samaaroh', a planned series of annual tribute shows to celebrate melody queen Lata Mangeshkar's birthday (which falls on 28th September). Moreover Balasaheb was also going to formally inaugurate Lata Online, my web museum on Lataji. There was a great buzz around the program. The auditorium was full, despite having a popular Marathi drama as the competing event in the city.
What a concert it proved to be! A sellout show; an extremely appreciative audience; Hridaynath Mangeshkar in top form belting his popular as well as slightly out of the way numbers with elan and his daughter Radha proving to be a perfect foil. The wonderful percussionists, superb violinist (who also sang a song earning a once more!) and a veteran keyboard player. From Gagan sadan to Mogara phulala; from Dolkar to Maaje raani maaje moga; from Gomu sangatine to Jambhul piklyaa zaaDaakhaali; from VeDaat marathe veer daudale saat to Ne majsi ne; from Jivalaga to Dayaghana; from Mhaara ri giridhar gopal to Maai Maai kaise jioon.....it was a 3 hour feast of creative singing. The sharp memory, subtle humor (which kept targeting me time and again!) and impressive intellect...everything typical of a prototype Hridaynath Bhaav Sargam was there. That he repeatedly kept mentioning me by my first name and talked about the conversations that he had with me the day before was endearing; that he officially announced the launching of my web museum Lata Online was so very special but guess what was the highlight? That he called up Lata didi in the middle of the concert and made her speak to the audience on speakerphone! What a moment! What a memory to cherish! It was enough to tell me one thing.....God exists! Do anything with all your heart and passion (with right people around you!) and then the stars will align themselves to make your dreams come true despite all obstacles.
Dubai's Lata Mangeshkar Sanmaan Samaroh's inaugural event proved to be an outstanding success. Lata Online can now proudly proclaim that it was formally launched by a musical genius called Hridaynath Mangeshkar. Cheers!
Reactions:
Sandhya D'Mello reported in Khaleej Times- 'Hridaynath Mangeshkar leaves Dubai spellbound. Youngest Mangeshkar sibling takes legacy forward as he vists Dubai to launch a website on Lata Mangeshkar." Here is the full KT news report.
Asian Lite, a UK-based publication reported - "Dubai launches Lata Mangeshkar Web Museum. At a recently held musical concert in Dubai, veteran composer-singer Pandit Hridaynath Mangeshkar – brother of internationally renowned singer Lata Mangeshkar formally announced the launching of Lata Online (www.lataonline), a web museum on Indian melody queen Lata Mangeshkar." Here is the full Asian Lite report.
Asian Lite in another report said - "Dubai celebrates Lata Mangeshkar's birthday. Indian melody queen Lata Mangeshkar's fans celebrated her birthday in Dubai at the Emirates International School auditorium." Here is the full Asian Lite report.