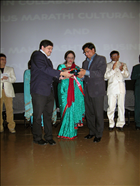 On 29th July 2011, the book 'Lata- Voice of the golden era' (written by Dr. Mandar V. Bichu and published by Popular Prakashan) was released in Mauritius by two Mauritian Cabinet Ministers – Hon. Mrs. Bappoo (Minister of gender equality) and Hon. Mr. Choonee (Minister of arts and culture). The book was released at a special function marked to inaugurate the Indo-Gulf-Mauritius Marathi Film Festival, which was organized by Mauritius Film Development Corporation, Mauritius Maharashtra Mandali Federation, Gulf Marathi Business Forum, SQC Group and Cinemasangeet.Com.
The function was attended by dignitaries from Mauritius, India and Gulf countries. Leading artistes from Marathi film industry like Sandeep Kulkarni (Lead actor of Gaiir), Santosh Manjrekar (Director of Mee Shivaji Raje Bhosle Boltoy), Rajeev Patil (Director of Jogawa) and Santosh Kolhe (Director of Made In China) and Dr. Sunil Manjrekar (SQC Chairman) were honoured with special mementoes on the occasion.
The program also featured some wonderful dance performances by the talented Mauritian youngsters.