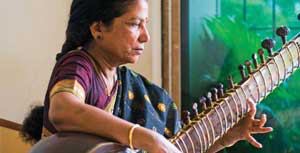 Dr Shashikala Abhyankar is a doctor by profession. An MD in pathology, she has been associated with hospitals like Lokmanya Tilak and KEM in the capacity of Professor of pathology.

She has a passion for sitar and has been practising the same for the last 41 years. She plays the sitar in the form of vocal signing popularly known as "Gayaki Ang" which is made famous by the Vilayat Khan Gharana. She has played at various programs across India.
Here are some beautiful classical pieces from her singing sitar!
The original clips are archived on Soundcloud.