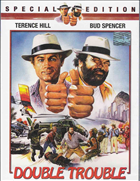 You might not have heard the names of Italian actors- Carlo Pedersoli and Mario Girotti but almost certainly you are familiar with their adopted names- Bud Spencer and Terence Hill! When it comes to 'Buddy Movies', one just can't miss Bud and Terence's loose-canon comic team from 70s and 80s. Their famous Trinity-series (where Hill played a lone rider Trinity and Spencer played his Sheriff half-brother Bambino) turned the seriously blood-thirsty violent genre of spaghetti westerns into action comedies and soon the duo's charaterizations fell into a popular, set pattern. Thereafter they essentially kept playing the same double team routine even though outwardly their scripts and characters kept changing names and games.
Spencer playing a dim-witted, reticent, large bear-like man with a huge appetite- a sleepy giant always ready to knock out the opponents with heavyweight hammer-like blows and Hill- playing his handsome, smart-aleck and fleet-footed partner formed as contrasting a screen pair as you would ever find. Their humor was broad, coarse and even predictable and yet it was pure mindless fun!
So go on. Check out these movies at your video-parlours and enjoy their unique screen chemistry.
1. Double Trouble – Hill and Spencer in double roles. Two rich and sophisticated Brazilian businessmen from Rio de Janeiro hire American look-alike doubles to see off a looming death-threat from criminals. The million dollar-a-week-replacements then create havoc with their coarse and earthy antics, while straightening out the goons!
2. Go For It – Hill plays a roller-skate-riding nomad and Spencer- a just released convict. Thanks to Hill's ventriloquist prank, Spencer beats up a gang of truck drivers. Becoming unlikely partners after that scuffle, they are then drawn into an unintended adventure through mistaken identities. Suddenly they are thought to be CIA-agents and sent on a mission to save the world from a lunatic millionaire!
3. Crime Busters – Hill and Spencer are petty criminals whose bungled break-up lands them in a police-office, where they get recruited as cops. Patrolling the streets in Miami, these cops have to get rid of pestering street gangs and they do it in their inimitable style.